Gold Crystal Goblets
Our gold crystal goblet centrepieces come in a range of sizes and shapes
They are glass, polished to perfection, and measure at 38cm. They are just beautiful filled with a church candles. Hire them on their own or dressed with a ring of artificial white hydrangeas and roses.
Finish It Off With…
Add gold tea light holders with a tealight candles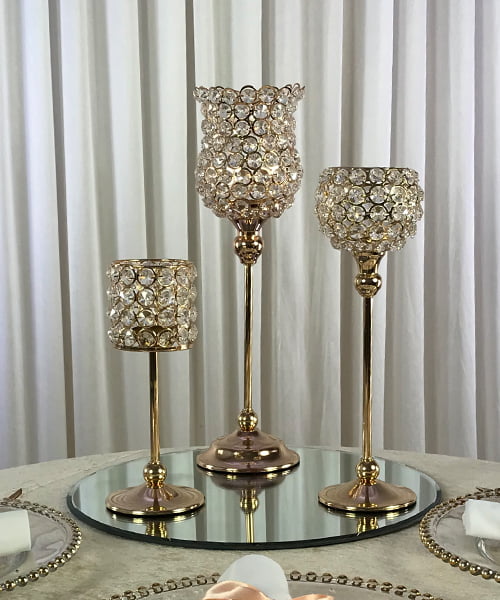 Silver Crystal Goblets
Our silver crystal goblet centrepieces come in a range of sizes
From 80cm, 47cm, 27cm, and a 7cm tealight holder. Covered in crystals, these pieces create a stunning glittery and glamorous centrepiece. Each goblet is filled with a tealight candle, which once the lights are turned down in your venue, will glitter and shine throughout the night.
Finish It Off With…
Complete this gorgeous look by putting a line of the 7cm goblet tealight holders along the front of your top table, so your table shines all night long.
We also recommend either silver scatter or our clear crystal scatter to go around the base of the goblets, or scattered along your top table, cake, and present table. It finishes off the crystal look perfectly.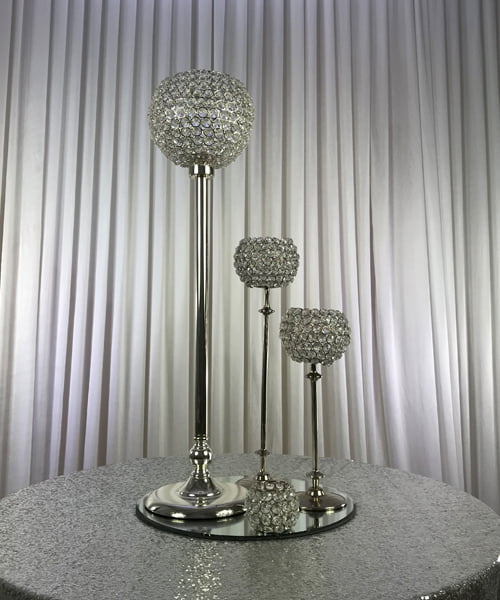 Other Centrepieces You Might Be Interested In…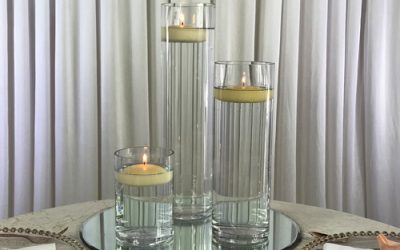 Elegant yet affordable centrepieces
Need More Details?
We have years of experience in the weddings and events industry. If you have questions or would like some advice, please feel free to get in touch with us by clicking the buttom below.