Silver Candelabras
Creating a mood of romance, elegance, and even vintage glam
Our Silver Candelabra's are 78cm tall, and have 5 arms. They are decorated with ornate details upon the stems and the base of the candelabra. Creating a mood of romance, elegance, and even vintage glam; our candelabras can be used as stunning centrepieces at any wedding or event.
Finish It Off With…
You can add hanging vintage pearls, crystal droplets, or flower garlands to these to add more of a glamorous touch, or to help incorporate the items into other aspects of your wedding.
If you wanted to decorate the top of the candelabra with a floral arrangement please get in touch for a quote. Flower prices will depend on size, colour, and seasonal availability.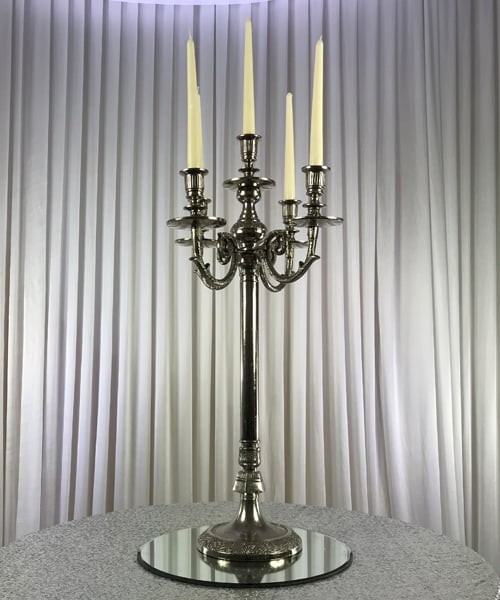 Add Extra Style To Your Candelabras…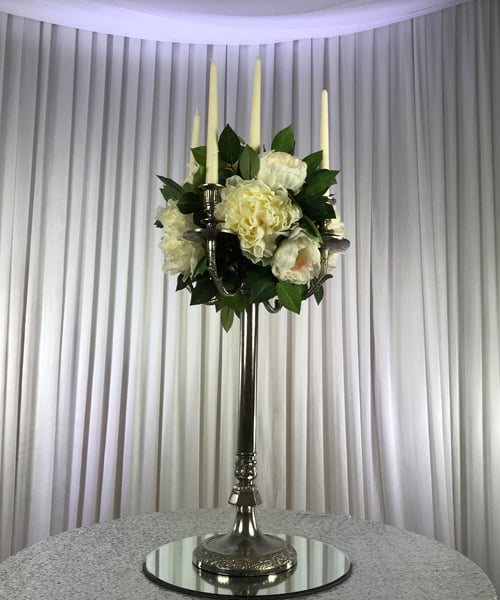 Silver Candelabra with an artificial Flower Ball
Adding flowers to the top of a candelabra means your flowers are the first thing your guest see when they wall into your room creating a WOW moment! We can add a ball arrangement of artificial flowers to the top of our candelabras in white with a hint of colour. Drop us an email to discuss available colour options. Silver candelabra with a ball arrangement of artificial white flower and ivory tapered candles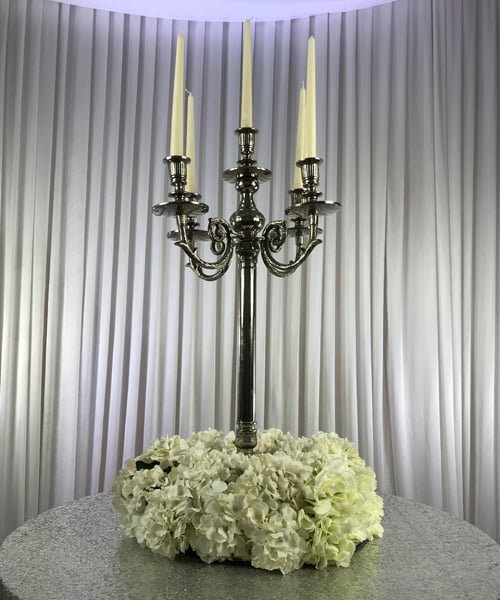 Silver Candelabra with a white hydrangea ring
Our Elegant 40cm white hydrangea rings look stunning around the base of our silver candelabras. Price for a silver candelabra with a hydrangea ring and ivory wax candles 
Need More Details?
We have years of experience in the weddings and events industry. If you have questions or would like some advice, please feel free to get in touch with us by clicking the buttom below.
Other Centrepieces You Might Be Interested In…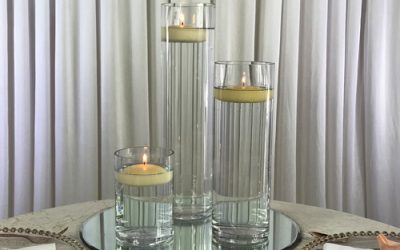 Elegant yet affordable centrepieces